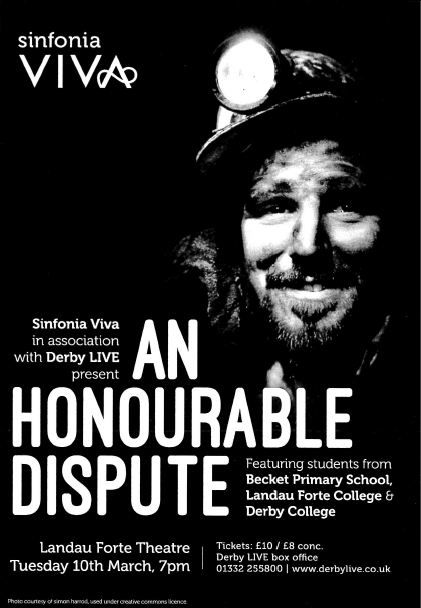 Derbyshire's rich industrial heritage is the focus for this concert, which explores the impact and culture of coal and coalmining in the county.
Marking the 30th anniversary of the Miners' Strike, the participants have worked with composer and workshop leader James Redwood, writer Hazel Gould and Sinfonia Viva musicians, to create new music inspired by the coal industry in Derbyshire, the revolutionary changes it brought, and the future of renewable energy since its decline.
Participants from Becket Primary School, Landau Forte College and Derby College will perform their newly-created pieces accompanied by Sinfonia Viva, and conducted by Viva's Principal Conductor, Duncan Ward.
The performances will be narrated by actor Ben Abell, and will also feature existing orchestral music performed by Sinfonia Viva, including music by Britten, Rouse and Glass.
"An Honourable Dispute" will be performed at Landau Forte Theatre on Tuesday, 10 March at 7pm.
Tickets are £10 each(£8 for concessions).
To buy tickets please contact the Derby LIVE box office: