++ Derby school receives national recognition for quality of careers education ++
Landau Forte College Derby is celebrating achieving a national award for careers advice and education. The Career Mark accreditation recognises the high quality careers information, advice and guidance the school provides to students. Career Mark is a stamp of excellence, representing the highest level of careers provision.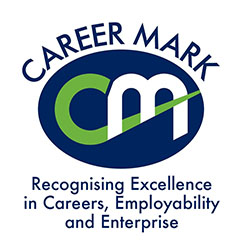 Schools are assessed across five standards in order to reach this level:
Planning, managing and integrating careers provision;
The quality of advice, guidance and support;
How the curriculum supports the development of learners' knowledge, skills, understanding and attitudes;
The accessibility, relevance, importance and effectiveness of information, and how this empowers students to research and evaluate their options in order to make well informed and realistic career decisions; and
Whether learners have the knowledge and competence for effective careers planning.
For each standard there are a number of assessment indicators to clearly outline what is required. Schools send an assessment of their provision to the awarding body, who if they rank them highly enough will then come and visit the school to see their careers offer in person. Only schools who pass both stages of the assessment process are awarded Career Mark status.
The award is valid for two years following the school's assessment in November 2019.
Alison Brannick, Headteacher at Landau Forte College Derby, said:
"We are delighted to have our careers provision nationally recognised. This is the result of a great deal of hard work by our dedicated team and highlights the importance we place on making sure our students are properly prepared for their lives after school.

"In addition to a high quality academic education, it is vital that our students receive the best possible careers advice while at school. It is our responsibility to make sure that our students are equipped with the skills they need to become successful individuals in the world of work."