The Maths problem solving challenge will continue to run for the next few weeks so please continue to take part and enjoy solving the weekly puzzles.
There were 5 entries to the Maths Problem Solving Challenge last week. Well done to Conall and Raja who entered the junior challenge and Adam, Sam and Saleem who entered the senior challenge.
There is no problem-solving challenge this week as it is the last week of term.
Thank you to everyone who has taken part so far and look out for the new challenges next term!!
The results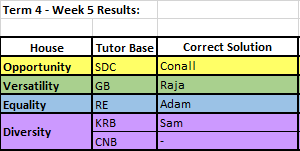 The answers
Junior challenge
How many shapes can you identify in the Deathly Hallows symbol?
6 shapes in total; one equilateral triangle, two right-angled triangles, two semi-circles and one circle.
How many lines of symmetry are there?
Only one line of symmetry owing to the vertical line through the centre of the shape (without this line it would have three lines of symmetry!).
What is the order of rotational symmetry of this shape?
No rotational symmetry or rotational symmetry of order 1 (without the vertical line, it would have order 3).
Senior challenge
The answer to the senior challenge was: 60.5% of the area of the Deathly Hallows Symbol is taken up by the circle. Below is Sam and Adam's working out as an excellent example of the solution to this problem.