Hello everyone,
The answer to last week's Choose Your Maths Challenge is shown below:
Tricky Twenty Triangle
There were several different answers to this one. Only two are included here:
Well done, if you managed this. There are many answers – the key was to make sure that the three corners added up to 15.
Equator of the Earth
If a rope was pulled taut around the equator it would have length 2πr (if we let the radius of the earth be the letter 'r'). If the rope is raised 1m from the ground at each point around the equator, it would have length 2π (r + 1) = 2πr + 2π. The difference between these is (2πr + 2π) – 2πr = 2π. This is about 6.28m of extra rope required!
Congratulations to the following students for getting last week's challenge correct: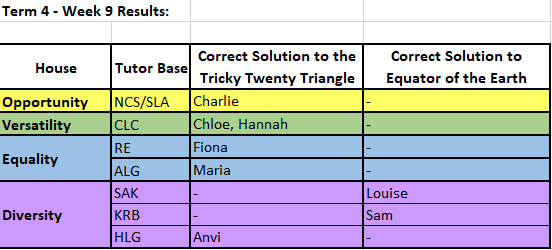 This week's challenge
This week's challenge is open to all students again. You can download the problem below and, as usual, all entries to me by close of play Friday with name, tutor base and house!
Good luck!!
Mrs Uff 😊