At Key Stage 5 we offer a diverse, challenging and engaging curriculum. The College is committed to providing students with the most relevant and sought after courses, with the majority of our students progressing to higher education.
We offer a variety of A Level courses, as well as the Extended Project Qualification. Students also complete at least one meaningful work experience placement. Some students sit additional entrance examinations for a specific University entry.
By the end of Key Stage 5 students are very well prepared for the next step in their learning journey, be that University, the world of work or an apprenticeship. It is our aim that our Sixth Form leavers are equipped with the key skills to compete successfully in the local, national and global economy.
Key Stage 5 courses offered
A Level Art
A Level Biology
A Level Business Studies
A Level Chemistry
A Level Computer Science
A Level Design & Technology: Product Design
A Level English Language and Literature
A Level Geography A Level German
A Level History
A Level Mathematics
A Level Further Mathematics A Level Physics
A Level Psychology
A Level Religious Studies (Philosophy & Ethics)
A Level Spanish
Curriculum overview
Curriculum intent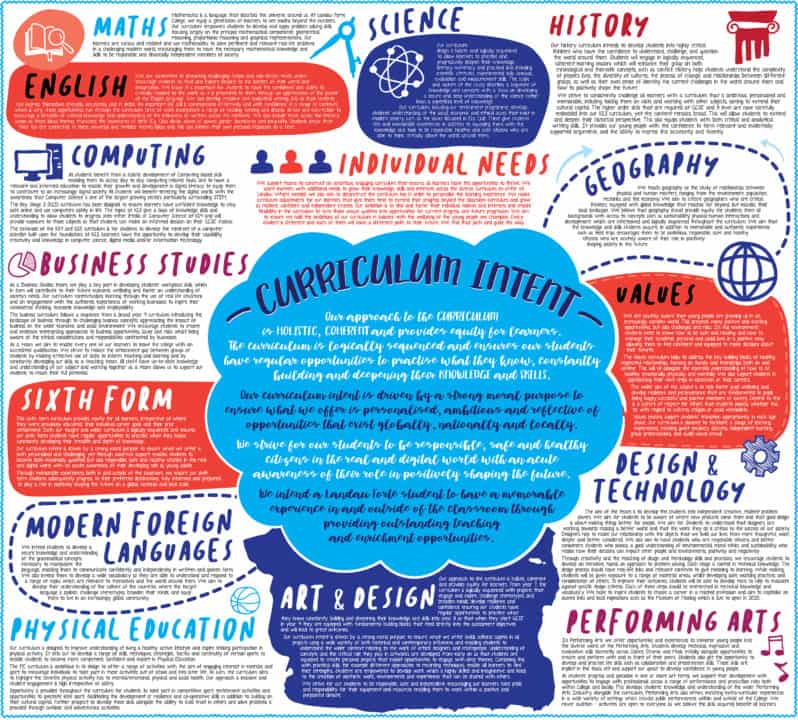 More information
If you would like more information about the curriculum the College follows then please contact us.