We offer a balanced curriculum at Key Stage 3 (KS3) designed to meet the needs and interests of all students. Students are regularly assessed and progress monitored from their KS2 prior attainment against challenging targets.
"The outstanding curriculum is extremely well matched to students' needs and aspirations and promotes high academic achievement. At the same time it provides suitable yet challenging courses for the less academic. Through excellent enrichment and additional programmes students are able to develop their special talents and interests across all areas of college life."

OFSTED 2012
All students will study the following subjects:
English
Maths
Science
Computer Science
Design and Technology
Geography
History
Performing Arts
Philosophy, Religion & Ethics
Physical Education
Art & Design
A modern Foreign language (German or Spanish)
Students will also have numerous opportunities to participate in curriculum enriching activities, either as part of the college working day or with one of the numerous clubs and groups which meet after the normal learning day finishes. More information about these opportunities can be found on our Enrichment & Extension Activities page.
Full details of our curriculum, by subject, are made available in the document below:
Curriculum overview
Curriculum intent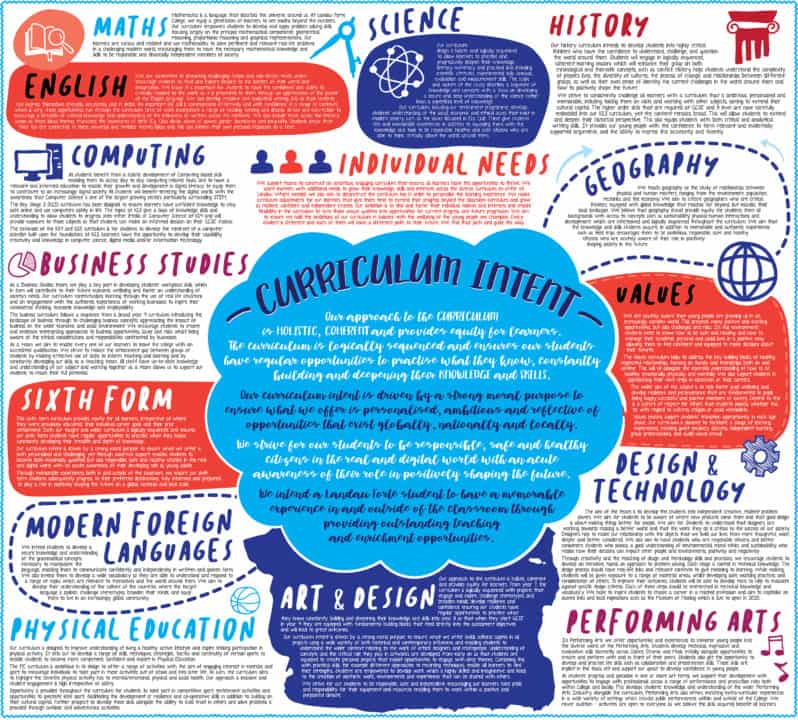 More information
If you would like more information about the curriculum the College follows then please contact us.